Key West Party Boat Fishing
 Instant Confirmation
Book Online Now!
Limited to 10 anglers, you'll enjoy our party boat fishing charter. For 4 hours, you and your group can enjoy catching some of the most desirable saltwater game fish including mahi-mahi, grouper, and shark! Let our experienced captain and crew navigate your dream fishing trip in the beautiful waters of the Key West.
Limited to 10 Anglers for Your Comfort
Split Charter – Limited to 10 People
4 hours – Only $99 Per Person
9am to 1pm
Private Groups – from $850
Private Party Boat Charters
Morning or Afternoon Available
Party Boat Fishing Key West, FL
KEY WEST, FLORIDA
A Group Fishing Experience in the Florida Keys
Head out on the water for a fishing adventure in the Florida Keys! This party boat fishing charter offers premium fishing excursions for anglers of all skill levels. Let the experienced captain and crew take you to their tried-and-true fishing spots across pristine South Florida waters.
Limited to 10 passengers, this unforgettable expedition is a great way to introduce family and friends to saltwater fishing, get the kids away from technology, or simply add an exciting experience to your vacation.
The Florida Keys is known around the world as a premium fishing destination. This Party Boat trip is one of the best ways to experience the thrill of coastal angling in a relaxed and fun environment.
Want the most out of your experience? Then try this charter, one of the oldest and all-around best Key West fishing charters! Let the Captain and crew design an unforgettable trip with more to catch and less to worry about.
What You'll Experience:
Exclusive fishing excursion with up to 10 anglers max
Safe & socially-distanced fishing excursion aboard a 33ft Liberty Launch boat
Target mahi-mahi, tuna, grouper, sailfish, and shark
Scenic day on the water lasting 4 hours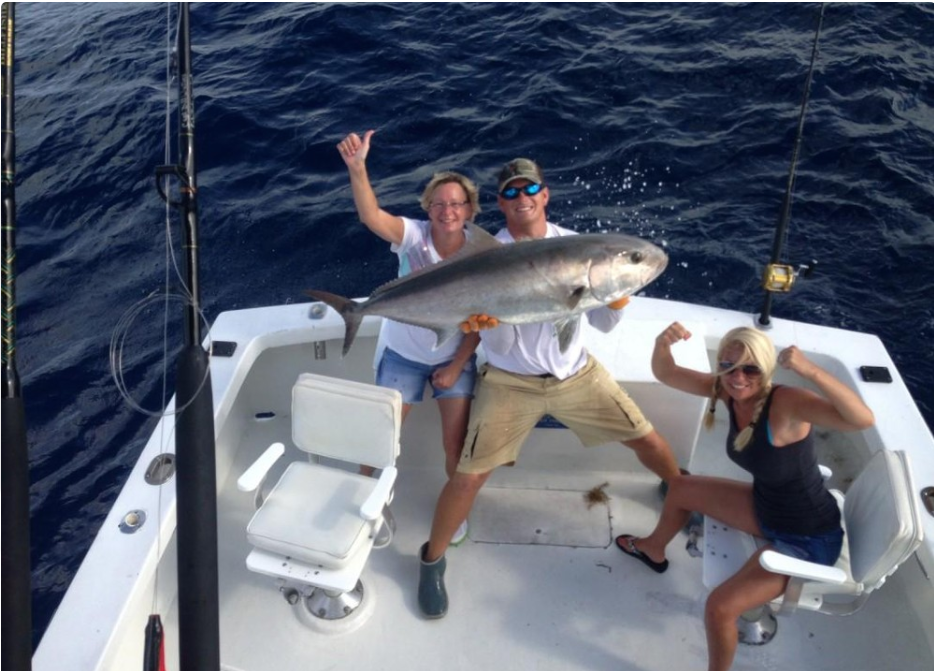 DIRECTIONS
KEY WEST, FLORIDA
Departure – Historic Charter Boat Row
Your charter departs from:
1801 N Roosevelt Blvd. Key West, FL 33040

We look forward to seeing you!

FAQ

How many people can I bring on this trip?
The Party Boat Charter allows up to 10 people maximum.

What should I bring?
Please bring protection from the sun including a hat, sunscreen, sunglasses, etc. Also, it's encouraged to bring along snacks and beverages (no glass allowed). Bottle water will be provided.

How often do you catch fish?
We are proud to boast a 99% success rate on target species.

Will you fillet the fish for me?
Yes! We happily bag and fillet the fish for you.

Are restrooms available on board?
Yes, we have private restroom available on board.

Can I bring my service dog?
Yes, you are welcome to bring your service dog. Please notify us upon reserving your trip.

Can my toddler go on this tour?
This trip is OK for toddlers, but be sure to check with the Captain to make sure this tour is right for your child. Children must be accompanied by an adult at all times. No expectant mothers or people with serious heart/health conditions.

What is your cancellation policy?
If booking directly through Captain Conch, you can cancel up to 24 hours prior to your departure time for a full refund with no fee. Cancellations after 24 hours and no-shows will not be refunded. In the event of unfavorable weather, the Captain will decide whether the trip will depart or not. If the trip is canceled due to weather, you will be rescheduled or a full refund will be issued.

5-STAR REVIEWS
We took our family with 7 members out on the Stella Blue. Had a great time. Stayed fairly close to shore and bottom fished. We caught a good assortment of fish and had them cooked later for dinner. Best of all they did a wonderful job with the kids teaching and mentoring them. Highly recommended for a family fishing outing. Take some cash to tip the crew.
They treated us to some spectacular fishing. Their professionalism and determination to get us on fish was greatly appreciated as well as the fishing education. From the time we arrived at the boat to the time we left, they met every need we had. There's never a bad day with catching not one but two Sailfish (plus hooked up on another one). What an exciting fish to hookup with. A bucket list checkoff for sure. Captain Craig and Ross thank you for everything today.
We had a great day yesterday!! Captain Craig and first mate Brian were nothing short of amazing. We caught more fish than any other chatter on the whole dock. When we came back from our trip all of the other charter captains were amazed at how well we had done. Brian was extremely knowledgeable, a great teacher, and made us feel safe and comfortable.
Great charter! We had Gary and Adam on the Conch boat. We caught mackerel and yellowfin snapper. It was a great day of fishing. I have fished with this company for at least 5 years. I've never had a bad experience, always very pleasurable! Thank you so much for helping make my Key West vacations even better!